I'm a woman. I'm a wife. I'm a mom. I'm a PhD Candidate. I'm a daughter. I'm a sister. I'm a friend.
And I'm only human!
With all these titles, we as women face a lot of pressure. We're supposed to keep up with the house, raise godly children, finish the laundry, cook dinner, and still have energy at the end of the day to get a bit of work done and spend time with the husband.
Some days it happens. I get a bit of dissertation work done during naptime. We all wear clean clothes instead of pajamas. Like real clothes, no yoga pants here. The kids are happy. We go for a walk and get some good sunshine. Dinner is completely homemade. The boys don't throw their sippy cups on the floor. The house is picked up and the toys aren't exploding everywhere. I even get a picture with both boys looking at the camera. Some days I'm a rock-star mommy and wife. Okay, so this day has never happened. But, I think maybe someday it could.
For now, I'm just not perfect. I'm only human.
Things are crazy. Things are messy. Things are chaotic.
Things aren't perfect.
And this is cause for panic! How will I ever measure up? How will I do it all? How will I be all things to all the people who will need me? I'm barely treading water now. How will a newborn baby get added to this?
My house isn't perfect. By far! My house is always covered in toys. It's a mess. It's lived in. We have baby fences in our living room. We have messy, nasty high chairs in the dining room that need a level of deep clean I can't describe (wash cloths are no longer cutting it!). We have an extra table that just will not sell hanging out in the kitchen. I have four overflowing baskets of clean, folded laundry taking over the floor of the master bedroom. We won't discuss the piles of clean folded and unfolded laundry in the laundry room. The guest room closet is overflowing with I don't even know what. The pool table is currently the dumping ground for homeless items in our house that have been displaced during the great room switch. We couldn't watch a movie in the media room even if we wanted to because it it housing four baby swings, a packnplay, two playmats, a cradle, two rocknplays, three bouncy chairs, the car seats, etc. My house is far from perfect.
I'm not perfect. I skip showers. More honestly, sometimes I can't remember if I showered the day before either. I realize in the evening I never brushed my teeth that morning. I drink far too much tea. Of both the hot and the southern sweet varieties. I chew ice. I wear yoga pants that have never seen a yoga pose. I lose my temper. I'm far too sensitive. I cry when I'm hurt. I forget to eat lunch. I make up for it by eating five cookies before bed. I make huge to do lists of things that never get finished. I spend too much of naptime relaxing and not enough time working. I get grumpy. I whine. I cry. I'm far from perfect.
My kids aren't perfect. They throw tantrums. They pull hair. They throw sippy cups. They pull the dogs tail. They throw food. They are long overdue for haircuts. They throw stuffed animals at the dog. They cry at the door and beg to go outside. They refuse to use the (very very few) words they have. They laugh when I say no. They cry when they realize I mean no. They test me and repeat the no behavior over and over to see if I still mean no. They say "no, no, no" while doing things they know they shouldn't. They aren't perfect (but they're close!)
This past week I received lots of reminders of just how not perfect my family is. Casey traveled all last week for work. I lost my patience. I didn't cook a home cooked meal all week (The boys lived on baked chicken and steamed vegetables). We survived the week, but certainly didn't thrive. On Sunday breakfast was canned fruit instead of fresh produce because I didn't make it to the grocery store. On Monday I was once again solo parenting. All three of us cried. Things weren't perfect.
Thankfully, even our imperfect days are filled with hugs and kisses. Even our imperfect days have perfect unconditional love. Even our imperfect days are a perfect representation of love.
Because my family may not
be
perfect, but we
are
fearfully, wonderfully,
perfectly made
. We are created in God's image. We are loved by Our Father. In Psalm 139:14, the psalmist cries out "I praise you because I am fearfully and wonderfully made; your works are wonderful, I know that full well." God created me and my family exactly the way He saw fit and exactly as He planned. He proclaims us perfect in his sight.
So, if today is as rough as yesterday --
If Tripp continues to unplug the baby monitor and attempt to electrocute himself.
If Davy hits the dog with a projectile dog toy. More than once.
If Tripp throws a full of tantrum because the dog is outside and he isn't.
If Davy gets carsick. Again.
If I scream at the dog to just stop barking and scare the kids in the process (and in a spirit of honesty I may have directed my scream at the dog but I could have just as easily yelled at one of the boys the way yesterday went).
If I sit down to work on my dissertation and accomplish nothing.
If I forget to start the dryer.
If Davy throws his favorite wubbanub at his brother and it lands in Tripp's dirty diaper I'm changing.
If Tripp pulls Davy's hair.
If I spend the entire day in my pajamas and the boys hang out in diapers all day.
If I end the day eating far too many cookies because I deserve them.
-- if today is as rough as yesterday I get comfort knowing that I'm only human. I'm just not perfect. And that's okay, because only God is perfect. My family and I are fearfully and wonderfully made in His image and according to His exact plan. His plan, not mine. Not according to some magazine standard. Not our version of picture perfect. His plan. His work in our lives is wonderful.
And when I'm panicking about adding a newborn to this clearly crazy, chaotic life, remind me that God made us. God is perfect and all of this is His will, His plan. I might not see the perfect, but He does.
And you are perfectly made too!
So when you have to look at a sink full of dishes and the toys all over the floor, take in the scene of your messy house, pause and listen to your screaming kids, and before you completely lose it, remember you ARE a rock star mom. Your imperfectly, perfect life is wonderful. Own it!
For some other great reads:
Or go look at the other posts in the
Mommy Moments linkup
!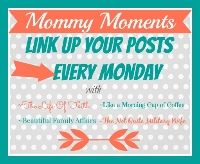 Or go meet some other great
Texas Women Bloggers
: