Along with these two new wonderful additions that will be joining our family in 2013 (we hope!) come a lot of things! It's amazing just how much stuff such tiny little people will need. In this series, I am going to walk you through our decisions as we are making them. We will talk cars, cribs, DSLR cameras, strollers, and other registry items.
Stroller
Choosing a double stroller is a monumental task!
First, you have to decide if it is important for car seats to snap in. Very few double strollers are designed to accomodate two infant car seats, so if this is important it narrows down the options a lot. If you don't get a stroller that fits the infant carriers, you can get a Snap 'N Go stroller that is a simple frame for the carriers to snap into for the first year.
You also have to choose Tandem (one behind the other) or Side by Side for a double stroller. SBS are typically easier to push and maneuver, but don't fit down the aisles at many stores, particularly between clothing racks. People with a SBS frequently also have a tandem to use for indoor trips. The SBS is the best outdoor walking stroller though. Tandems are better for squeezing through tight places, but don't push or turn as easily. Since they are so long, they have an AWFUL turning radius. Many parents of older kids also say that at high interaction places like the zoo, the back child is unhappy because their view is obstructed.
We spent a lot of time torn between two strollers and originally even registered for both.
SBS:
Baby Jogger CityMini GT
This stroller will not hold two infant carriers (so we would also need a Snap N Go) but is a beast of a stroller. It pushes like a dream, has nice big wheels for use on all terrian, folds in a snap (just one pull on strap!), folds (relatively) small for a double, has nice big seats designed for bigger kids, and can accomodate a combined kid weight of up to 100lbs.
Tandem:
Baby Jogger City Select
This tandem stroller (oddly enough, made by the same company as our first choice SBS) gets around many of the complaints of tandem strollers. It has "stadium seating" so the back child still has a great view. It has adjustable seats so you can choose if the both face forward, both face each other, both face backwards (best position for reclining to almost horizontal), etc. It will also hold two infant carriers. Because the City Select is sold as a single and then you buy the second seat as an add on, it has a much smaller frame than many tandem double strollers and so turns easier than any other tandem we tried (which is still not as easy as a SBS). The City Select has nice big pushable no-flat wheels, and can hold 45lbs per seat (only 10lbs less than the MiniGT).
Stroller Decision: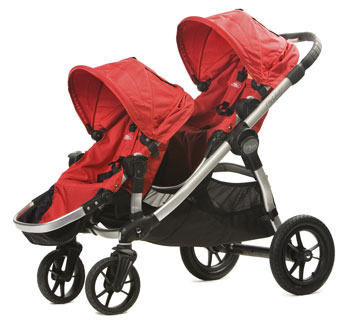 We ended up choosing the City Select! From everything we read, it is the better stroller for the first 24 months. If at that point we are unhappy, we can get a City Mini then.
What helped make the decision was talking to LOTS of moms of twins (including random ones I don't normally interact with on twitter, two who happened to be at Buy Buy Baby when I was there, moms at NDMOTC, and friends). Almost no one we spoke to had just one stroller! In fact, my informal survey found that most twin families will use 3-4 different strollers! I was shocked by the number who swore by a tandem (like the City Select) to keep in the car and a SBS jogging stroller in the garage for neighborhood walks and the occasional trip to the zoo.
We think the City Select with all it's versatility and easy turning radius is the right choice for us starting out. This stroller isn't cheap though! At Buy Buy Baby it is $499 for the stroller with one seat and another $169 for the second seat. The car seat adapters are $59 each. Then if you want belly bars, child trays, an adult cupp holder, or the adult organizer, those all are additional cost. Wow! It adds up quickly. We are totally comfortable buying the stroller used, so we have been watching Craigslist and EBay. But, at Buy Buy Baby we can buy everything on separate store trips and so use 20% off coupons - this means the single stroller is really $399, which is a better deal than we've found used (yet!). Hopefully we can just keep looking.
Car Seats
When we first found out we were pregnant, we looked around and realized almost everyone we knew had the exact same car seat! We know one couple had that car seat because the original car seats they purchased did not have a low enough weight limit and the hospital wouldn't let them leave so they had to go buy new car seats to take their preemie twins home. Armed with this information, we didn't do much car seat research and were set on the
Chicco Keyfit 30
. It's lower weight boundary is 4lbs, has an only okay canopy, multiple harness heights to account for small babies, and great safety ratings. It also known for how easy it is to get in and out of the car seat base.
What more do you need?
Well, because it uses a unique attaching system to connect to the base, it doesn't have grooves in the bottom like a typical car seat. This means it doesn't snap in securely to a Snap N Go stroller or to the City Select. It rests on top of bars (which it does secure to) and then gets buckled in. Many people use this system and are happy with it. Others find it isn't secure enough. We just aren't sure!
So when we were at
Lonestar Baby in Frisco
(I seriously cannot say enough good things about this store! Why isn't it in Dallas or McKinney so I can register at it!!) looking at strollers, we ended up talking to an incredibly helpful sales associates who walked us through a number of strollers. Some of the most popular car seats that "snap" in aren't recommended for preemies (which twins are likely to be) regardless of the lower weight bound. This includes the Graco Snugride due to lower amounts of padding and foam and the Maxi Cosi which has a 5lb weight bound, but doesn't have harness straps that lower far enough to accomodate a 5lb baby. He showed us a (relatively) new to the US car seat called the Cybex Aton.
The
Cybex Aton
is obviously European design (just look at the shape) and a masterpeice of engineering. It is one of few car seats on the market that uses a metal to metal connection to snap the seat in instead of plastic, creating a stronger hold. It also has an "easy latch" system that makes installing and uninstalling the base a snap. Cybex designed the carrier handle to also act as a roll bar and support in case of a accident. It has the European seat belt system so can easily be buckled into a car even without the base (all car seats can do this, but not all can do it so easily). It also easily snaps into the CitySelect and Snap N Go incredibly securely. But, it has an ugly, ineffective canopy. And it costs $50 a seat more than the Chicco.
Car Seat Decision: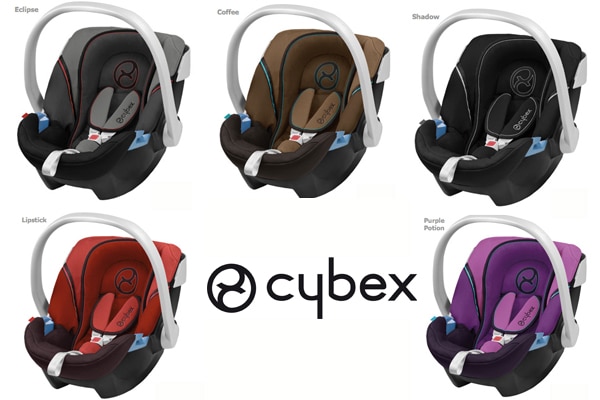 Despite being less attractive than the Chicco, we are currently leaning towards the Cybex, but just can't decide if it is worth the $100, and so originally registered for both. We have since taken the Chicco off of the registry and chosen the Cybex for its easier installation, easier snap in functionality, metal to metal connection, and (huge selling point for carrying two) it's pound less in weight.
We have found one really good deal for used Cybex Atons and are struggling over the decision to buy them. The baby deals book and websites are all unanimous that carseats shouldn't be purchased used because after an accident they are replaced and should be thrown away. Most (all?) insurance companies will replace your carseats if you are in a wreck. This is because the structural integrity of the seat or the foam can be damaged. You wouldn't know it was damaged until the next accident didn't protect the babies. Carseats also have expiration dates and shouldn't be used past those dates. Buying used poses a risk that the seat will expire before you are finished with it. (
Source
Source
Source
) All that said, these used seats are offered by a woman who is a memb of the same mothers of twins club I joined (I actually saw the listing on the club board). It's a lot of monetary savings and now we need to decide if it is worth it!
See what I mean about ineffective research! We narrowed to two strollers and two carseats and then really struggled to make up our minds - and while we have made decisions we might change our minds again before the twins arrive! And even with our minds made up about the models we want, we still have to choose new versus used. Aye carumba!