Along with these two new wonderful additions that will be joining our family in 2013 (we hope!) come a lot of things! It's amazing just how much stuff such tiny little people will need. In this series, I am going to walk you through our decisions as we are making them. We will talk cars, cribs, DSLR cameras, strollers, and other registry items.
During our years of trying to conceive, I used to love sitting around and thinking about beautiful nurseries. I would pour over the Pottery Barn Kids catalogue and Restoration Hardware Baby catalogue and look at that great furniture and decor ideas. I knew this wasn't the most budget conscious furniture, but it was pretty and (I believed) well made so it would be worth it.
Harper Crib from Pottery Barn Kids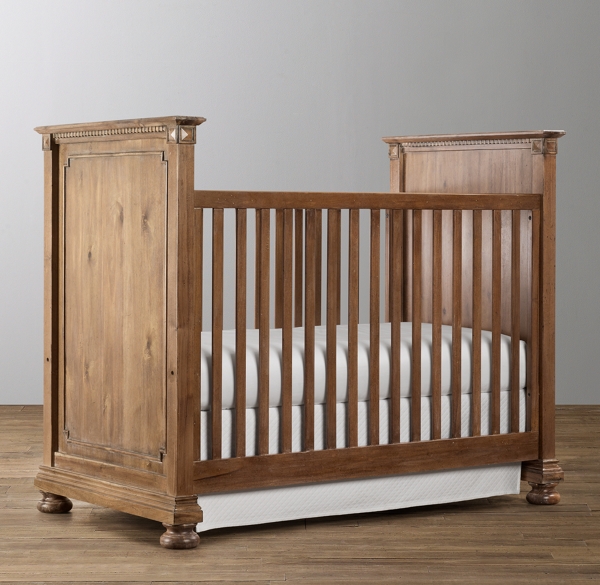 Jameson Crib from Restoration Hardware Baby and Kids
When we found out we were expecting twins, things changed. Spending $700-$1,400 per crib just isn't an option. Sadly, due to the huge crib recalls in 2010 and 2011, used cribs aren't a good option either. Too many of them are not up to safety snuff. I was also disappointed by the number of flame retardants and chemicals sprayed on cribs. Don't companies know that babies gnaw on crib rails? I don't want my babies eating that! So we started exploring other options.
The cheapest crib options come from Ikea. They are decently made with limited formaldehyde and chemicals and get pretty good reviews. I spent a morning at Ikea with my Mom scouting them out:
Before going, I liked the look of the Ikea Hensvik online. In person it is very feminine.
On the left is the Ikea Gulliver and on the right is the Ikea Sundvik.
When I got home from the Ikea trip, Casey was dismayed to learn they were white or natural. He's a woodworking hobbyist (he built my gorgeous dining room table) and really has a strong preference for stained wood over white. The Sundvik does come in a grey-brown stain that allows some of the wood grain to show through, but Casey wasn't impressed.
The Ikea Sundvik in the grey-brown stain. The design of the crib looks better in person, but is fairly boring.
So we kept looking.
We went to Buy, Buy, Baby, Babies R Us, Lonestar Baby, Target, WalMart, and other local boutiques but nothing was perfect and perfectly priced.
Organic cribs are all out of the x2 budget. Most of the low-budget cribs don't meet my stringent safety needs. Many of the BBB, BRU, and LB cribs were equal in price to those at PBK and RHB. The cribs we thought were good safety and price wise didn't fit our needed function/design.
Most of the cribs one the market today are 3-in-1 conversions. This means they start as a crib, then become a toddler bed, then become a full bed to grow with the child. Let's be honest, with twins I doubt we ever put two full beds in the room, so that feature isn't useful. In fact, we dislike that feature because it means one of the cribs long sides is higher than the other to act as the headboard in the future full bed. This means the crib needs placed with the long side against a wall. That's great with one...but with two?!? We did see some that didn't have the headboard issue, but they were frequently more expensive or in the modern collections which means painted.
We found one crib we liked a lot at
Lonestar Baby
in Frisco (seriously, if shopping or registering in Frisco is an option for you this store is AMAZING. I wish it was closer so we could do a registry there. Most helpful sales people of any store or baby boutique we have been to!). It was made by a company called Baby's Dream and features a patented "safety gate" which means the top 6 inches fold down on the crib without the danger of the old drop side cribs. It is solid wood construction, contains all metal for the hinges and hardware (no plastics!), a beveled hinge so fingers can't get pinched, has no MDF, no veneers, and no formaldehyde. At $529 a crib it certainly isn't the most expensive one we have looked at, but with the need to buy two car seats (at $200 each) a double stroller, two cribs, etc we would rather spend less.
So our crib decision:
We won't be buying all the things.
We'll be building!
Casey has been hard at work drawing plans, taking measurements, visiting baby stores to look at measurements on their cribs, pricing out lumber, etc.
My woodworking hobbyist husband and his Dad have already started sketches of cribs to be built end of September/October! We'll let you know how things progress towards the end of the month when the design is finalized and we start buying wood and constructing. If things go wrong and we end up in too much of a time crunch, we can always go back and the Baby's Dream Crib or an Ikea Crib later. Really, the babies won't be in cribs for the first few weeks anyway!
Our current plan is to base the crib stylistically on the Jameson with the same framing and detailing on the short sides. On the long side, we will base it on the Baby's Dream Crib to put in our own safety gate drop system. I am thrilled that we will be able to get everything we want in cribs for less than half of the price of buying them!